IFRS hot topics and accounting in the digital age
Marek Walendowski, Ernst & Young LLP
Jane Hurworth, Ernst & Young LLP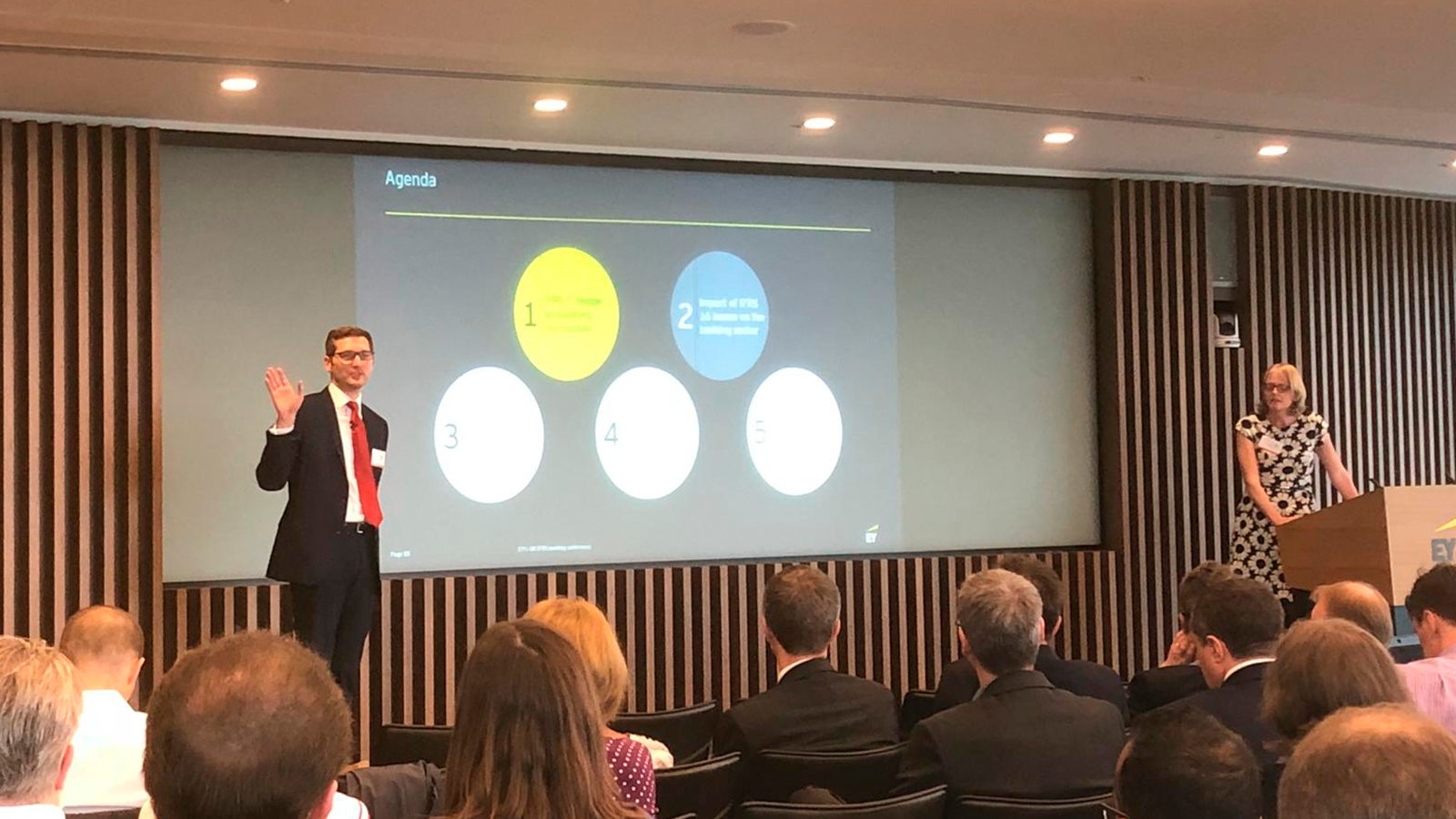 Hedge accounting disclosures
Ahead of the conference a benchmarking exercise has been carried out assessing the risk management strategy and disclosures from 16 banks (all applying IAS 39 hedge accounting requirements) all indicated a high level of compliance with IFRS 7 financial instruments disclosures and 44% presented this information in a single note. A similar number referenced into the risk report, which on occasion may be up to 50 pages in length, therefore including specificity in any cross referencing would be helpful.
A number of disclosures remain boiler plate and some disclosures were often more geared towards what was explicitly asked for, as opposed to voluntarily providing more information in order to better explain the entity's risk management strategy andits effect on the financial statements.
Regarding sources of ineffectiveness (where there was 100% compliance with disclosure requirements), 31% took a more generic approach, whilst 44% provided some specifics and 25% were highly specific.
Other points for improvement which Jane highlighted were:
Hedge ratios were often not disclosed, perhaps because the ratio is 1:1, however greater clarity on these ratios would be useful
Disclosures on the sources of ineffectiveness could be improved by better tailoring to the specific hedging relationships
Variation in practice exists around the requirement to disclose average prices of hedging instruments, in particular for fair value hedges where only 44% of those surveyed provided the information
IFRS 16 Leases
Most banks applied IFRS 16 using the modified retrospective approach, with the Right-of-Use (ROU) asset equal to the lease liability, and only few adjusted the measurement of the ROU asset. Although the extent of disclosure provided by banks varied across the industry, the majority provided the description of initial measurement principles, but only some commented on the type of discount rate used, explained subsequent measurement principles and other key judgements.
The reduction in the banks' common equity tier (CET) 1 ratio due to implementation of IFRS 16 ranged from 0.05%-0.22%, although the impact on total assets and total liabilities is likely to be far larger. The impact tended to be larger for banks which leased rather than owned large items of property plant and equipment (PPE) such as head offices or datacenters.
Despite the standard being effective, the there are still ongoing discussions and IFRS Interpretations Committee (IFRIC) recently discussed questions from the European Securities and Markets Authority (ESMA) who noted diversity in practice regarding:
How a lessee determines the lease term and useful life leasehold improvement for renewable or cancellable leases
Whether a lessee's incremental borrowing rate must reflect the interest rate in a loan with similar maturity and payment profile to the lease payments
To answer the first questions, the lessee needs to first assess whether or not the lease contract is enforceable, and subsequently determine whether it is reasonably certain to utilise any optional periods. With regards to the useful life of non-removable leasehold improvements, it would generally be expected that both terms are aligned.
Both issues are still pending final IFRIC conclusion. It is however important to remember that the lessee's weighted average incremental borrowing rate needs to be disclosed, which increases transparency of its impact on the measurement.
IT operating infrastructure
In the new digital world, many banks are moving away from traditional, asset-driven IT infrastructure and implement outsourced or cloud based IT services. The focal points for accounting in this environment are:
The appropriateness of assets' useful lives
Accounting for flexible third-party cloud computing services
The approach to capitalisation of development costs for software developed using an agile approach
Marek noted that there is a variety of cloud computing services available to banks. In general, as vendor managed options become more off-site, it is harder to justify capitalisation of costs relative to these services. To reiterate this point, he referred participants to the IFRIC's conclusion in March 2019 that contracts conveying the right to receive access to software in the future are services, not leases.
Capital Requirements Directive (CRD) V or Capital Requirements Regulation (CRR) 2 introduces changes to the regulatory capital treatment of capitalised software recognised as intangible assets under IFRS
Prudently valued software assets, whose value is not negatively affected by resolution, insolvency or liquidation will be excluded from the scope of deduction from the CET1 capital
The European Banking Authority (EBA) has been tasked to specify the application guidance, which is expected in late 2019 or early 2020
Changes to regulatory capital treatment will likely result in additional scrutiny of capitalised balances
Existing processes and controls may require enhancing
IT operating infrastructure
On agile approaches to software development, the key accounting challenge under the current standards is to demonstrate which costs are incurred during a development phase rather than in a research phase as no clear lines separating these phases exist under an agile project approach. Initial indications from banks implementing these services are that they either rely on detailed time tracking by development teams or they attempt to estimate capitalisation ratios per user story (a description of a software feature from an end-user perspective which defines what they want and why) prior to the project and then they re-assess the ratio as the project progresses. This remains an area where practice, and possibly accounting standards, will probably evolve over time.
Marek briefly took participants through the March 2019 IFRIC tentative agenda decision regarding the accounting for cryptocurrencies which are:
Not issued by a jurisdictional authority or other party
Don't give rise to contracts between the holder and the other party
The IFRIC concluded that accounting treatment depends on whether the asset is held for sale in the ordinary course of business. This decision was subsequently confirmed after the conference at the June 2019 IFRIC meeting.