Brexit for Financial Services
Andrew Pilgrim, Ernst & Young LLP
Brexit calendar and preparation
Boris Johnson's election as Conservative Party leader and Prime Minister has brought the real possibility of a no-deal withdrawal from the European Union (EU), known as 'Brexit', back into light. The financial services sector has spent the last few years preparing for Brexit, and now it appears those efforts have not been without benefit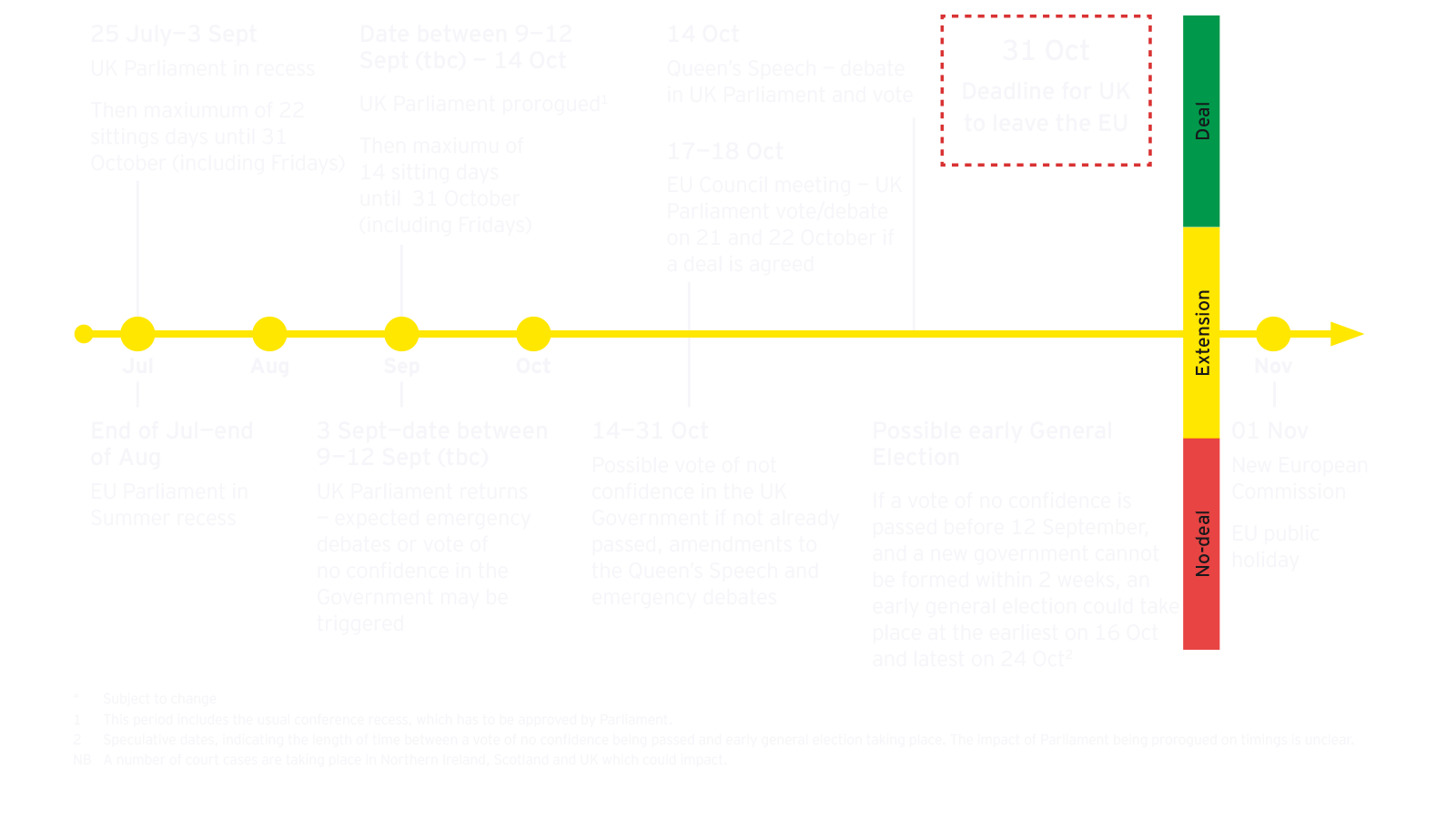 Most institutions in the United Kingdom (UK) are prepared for a 'no-deal' Brexit. With contingency plans no longer the core focus, attention is shifting to managing any market volatility resulting from Brexit and optimisation of European and global operating models.
The European Commission has confirmed that short-term equivalence will be granted in the event of a no-deal for UK Central Counterparty Clearing Houses (CCP) and Depositories (CSD) but other contingency measures have been delegated to member states.
Informal polling indicates most firms see the biggest risks of a 'no-deal' as market impacts and contract continuity. Continuing access to financial market infrastructure is also of concern.
European Supervisory Authorities (ESAs) - recent focus
Closely monitoring Brexit developments and possible risks of a no deal, including through stress tests
Joint Committee of the ESAs Spring 2019 report on risks and vulnerabilities in the EU financial system – timely contingency plans "crucial"
Actions include:
UK CCPs / CSDS - conditional 12m equivalence decisions
Over-the-counter (OTC) contracts - 12-month transition period to allow UK counterparties to be replaced without triggering clearing requirement
ESMA guidance to EU27 National Competent Authorities (NCAs) on non-EU branches providing investment services/activities
Memoranda of Understanding (MoUs)
MoU between European Economic Area (EEA) NCAs and Financial Conduct Authority (FCA) – multilateral MoU covers supervisory cooperation, enforcement and information exchange will allow certain activities, such as fund manager outsourcing and delegation, to continue to be carried out by UK-based entities on behalf of EEA counterparties
MOU between ESMA and Bank of England - for recognition of UK CCPs and UK CSD
MoU between ESMA and FCA - covers supervision of credit rating agencies and trade repositories
European Banking Authority (EBA) template for bilateral MoUs between NCAs and Prudential Regulation Authority (PRA)/FCA - covers information exchange and supervisory cooperation
European Central Bank – recent focus
Third country branch assessments
UK Temporary Permissions Regime – European Central Bank (ECB) permission may be needed for third country branches
Booking models, access to Financial Market Infrastructure (FMI) and business plans - no key function holders, systems or services from third country branch
Further consideration of…
Dual listed companies and MiFID II Share Trading Obligation (STO)
Depositor protection in EEA branches of UK credit institutions
Secondary market data exchange
Accelerated reconsideration of third country regulation and supervisory arrangements/revised EU equivalence regime
Recalibration of MiFID rules when UK not in calculation of metrics
PRA / FCA regulation / supervision
FCA has published final rules and Binding Technical Standards
Bank of England / PRA have published final policy materials including EU Exit Instruments, Supervisory Statements and a Statement of Policy
EU MoUs
Financial Services Contracts Regime
For EEA firms that do not enter the TPR or exit the TPR without UK authorisation
To enable EEA firms to wind down UK regulated activities in an orderly manner
Temporary Permission Regime (TPR)
FCA notification window still open (closes 30 Oct 2019) but PRA notification window closed on 11 April 2019
PRA/FCA note on application of the Senior Managers and Certification Regime (SMR) to TPR firms - clarifies how proposals interact
Accounting and corporate reporting
Department for Business, Energy and Industrial Strategy (BEIS)/Financial Reporting Council (FRC) no deal letters on accounting and corporate reporting
Statutory instrument transfers EU's powers to adopt International Accounting Standards (IAS) to the Secretary of State
Will delegate to Independent UK IAS endorsement body being established during 2019
Temporary transitional power
Statutory Instrument provides UK regulators with a temporary transitional power (TTP) to make transitional directions to mitigate disruptions to firms' obligations
FCA has published final TTP Directions (may publish a further set later in year)
Bank of England / PRA have not publishing final TTP Directions yet
UK financial services equivalence framework
Statutory instrument makes provisions for elements of the UK financial services equivalence framework in the event of a no-deal
HM Treasury has temporary power to make equivalence and exemption directions for EEA Member States with guidance from UK regulators