Climate risk
---
Rebecca Self, CFO Sustainable Finance, HSBC and Doug Johnston, Partner, Ernst & Young LLP

Climate change has long been a topical moral issue. However, it also has the potential to cause significant operational and financial disruption to global markets and businesses and regulators are becoming increasingly aware of these threats and the need to respond to them. In this session, Doug presented an overview of the latest climate risk developments in the banking sector and Rebecca provided valuable insights into HSBC's approach to managing climate risk.
Climate risk has the potential to reshape the world that we live in. This is already evident through changing and extreme weather patterns which disrupt food production and threaten to displace populations and through social pressures which are driving changes in demand for products and services. Doug mentioned that climate change may wipe up to $2.5tn off the world economy and that this amount could increase depending on how climate-related challenges are managed and responded to.
In the banking industry, banks face direct exposure to these risks through loans and other financial exposures to affected entities and individuals working within these industries. The entire global industry faces the risks which arise from disrupted and volatile markets. In a later presentation, David Doyle said that he believes that the impact of climate change on the banking sector is likely to dwarf the impact of Brexit.
Investors are not silent on this matter either, with the demand for green bonds and sustainable investments increasing and driving a need for robust climate related disclosures. These trends mean that climate change should now be at the forefront of banks' strategic planning.
Regulators are also beginning to put pressure on banks as they seek to proactively drive responses to climate related risks by encouraging sustainable lending practices and robust climate related disclosures. Several European regulators including the European Securities and Markets Authority, the Financial Conduct Authority and the Bank of England have recently published initial papers which aim to drive considerations of climate risks in banks' risk management and governance processes and to set out guidelines for robust disclosures. The Financial Stability Board's (FSB's) Task force on climate related disclosures (TCFD) was established to provide consistent, high-level guidance to assessing and disclosing climate-related risks and opportunities, using forward-looking and scenario-based analysis. The EY climate risk disclosure barometer assesses industries' performance against the TCFD recommendations. While some industries have made good progress, work remains to be done.

EY teams have developed the Climate risk disclosure barometer to provide an annual snapshot of the uptake of the TCFD recommendations across highly impacted sectors. This provides analysis of current corporate disclosures to compare the high-risk sectors listed in the recommendations against each proposed TCFD disclosure.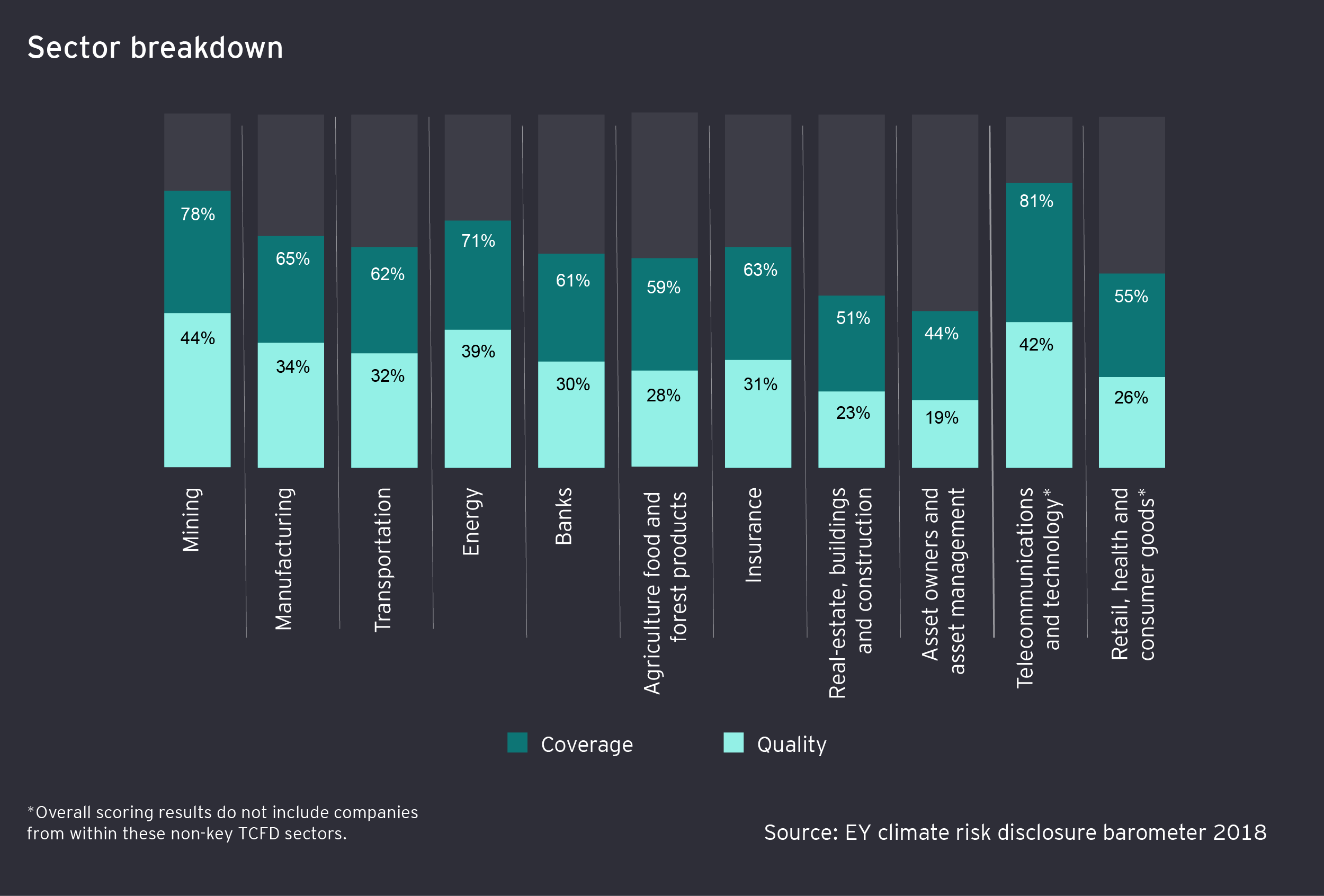 HSBC has sought to be a market leader in responding to these challenges and demands. Rebecca explained that their approach has been aided by senior management buy-in and accountability. This has helped to drive decision making towards more sustainable long-term outcomes.
They believe that an estimated US$90tn of investment is needed in new green infrastructure over the next 15 years – double the current annual rate of spending – just to keep the global temperature increase below two degrees. This will require major injections of capital to pay for more efficient and less carbon-intensive technologies and infrastructure, to reduce the carbon footprint of established companies and industries, and to cover the costs of climate adaptation. Banks have a key role in making sustainable, long-term decisions to providing this finance. Rather than focusing on reducing or restricting lending to 'bad' industries, where clients are currently operating in these industries, HSBC aims to focus instead on partnering with them to help them to fund and make the transition towards a more sustainable future. In doing so, HSBC hopes to forge mutually beneficial relationships.
A key challenge in responding to climate change is developing targets and metrics. With climate change being inherently difficult to quantify, HSBC has made a number of core commitments, set out below:
Provide USD100bn of sustainable financing and investment by 2025
Provide USD 100bn of financing/investment to develop clean energy, lower-carbon technologies, and projects that contribute to the delivery of the Paris Agreement and the UN Sustainable Development Goals
Lead the development of sustainable capital markets, support corporate and institutional clients in managing risks and promote sustainable investment products for retail and private banking clients
Source 100% of our electricity from renewables sources by 2030 (90% by 2025
Use direct investment and direct purchases via power purchase agreement (PPA) and similar mechanisms that directly help the financing of new renewable electricity assets.
Collaborate with RE100, governments and regulators to open up renewable energy markets where PPAs or similar are not currently available
Reduce electricity per full time equivalent (FTE) by 20% by 2020
Reduce our exposure to thermal coal and actively manage the transition for other high carbon sectors
Discontinue financing of new thermal coal mines (including new customers dependent on it) and new coal-fired power plants in developed countries and continuously reinforce lending criteria in developing countries
Engage with clients in high carbon sectors to influence their transition strategies
Continuously review our risk policies on low carbon technologies
Adopt recommendations of Task Force on Climate-related Financial Disclosures (TCFD)
Report according to governance/ strategy/ risk management recommendations of the task force
Engage with academia/ industry associations/ civil society networks to support robust climate scenario analysis to price transition and physical risk.
Promote uptake of these recommendations across our global network
Lead and shape the debate around sustainable finance and investment
Establish a Centre of Sustainable Finance to provide thought leadership about climate change and the role of the financial services sector.
Promote the development of industry-wide definitions, standards, tools and metrics to enhance market analysis of ESG issues and impacts.
HSBC recognizes investors' need for climate risk disclosures and has included TCFD disclosures in its annual report for the past two years. However, Rebecca observed that many of these disclosures are difficult to quantify and corroborate, and also that work is needed to develop and publish more reliable data. However, she remarked that, given the urgency of the need for this data, it is better to be roughly right now than 100% right in 10 years' time.
Participants' reactions to the session was noteworthy and indicated growing understanding of the urgency and importance of the topic as a result of the presentation.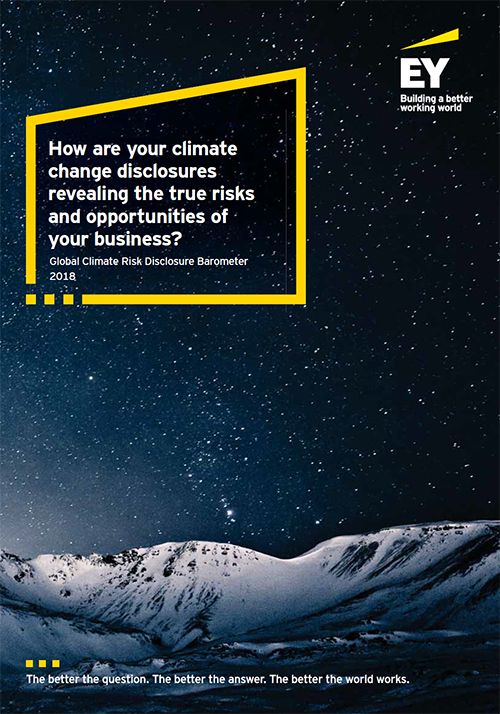 For further information on the regulatory outlook for banks, refer to the following EY publications: