Spotlight on 2018/19
A look back at the Foundation's highlights in 2018/19, through the eyes of Amanda Capstick, who took part in the Manchester Smart Futures programme.
To celebrate our fifth birthday, we also review our key achievements over the last five years.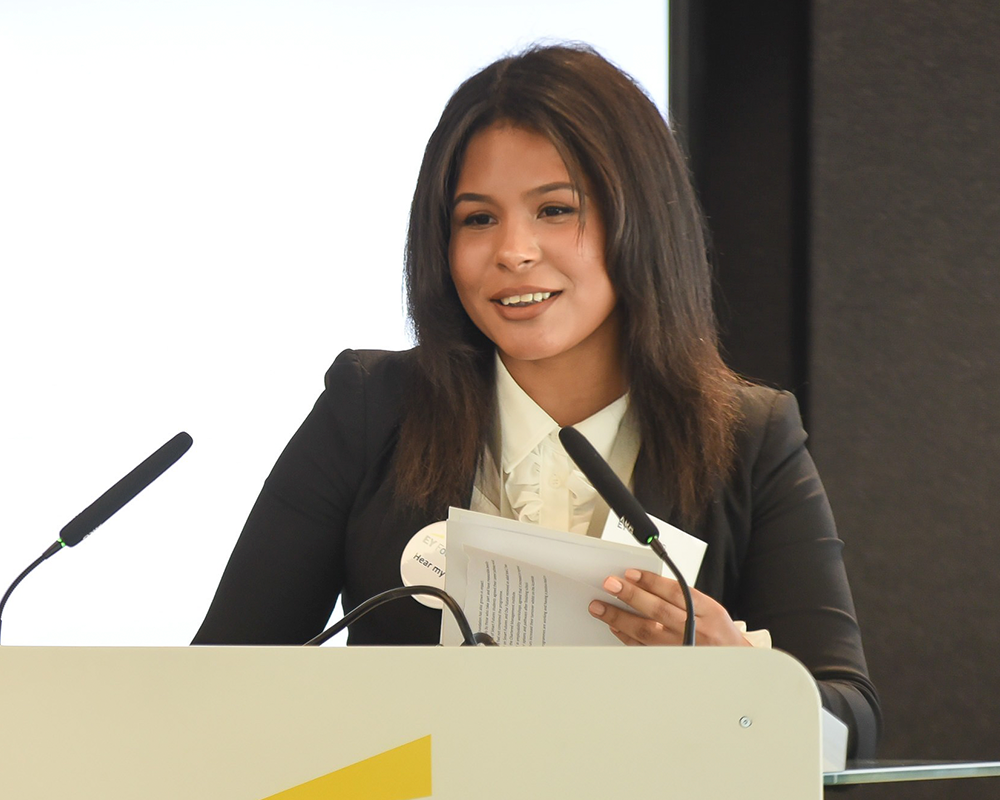 During summer 2018 I had the opportunity to start my journey into work with the EY Foundation's Smart Futures Programme. I applied to develop my networking skills and to learn more about the self-discipline required to succeed in the workplace. I found the Smart Futures programme to be a great opportunity as the EY Foundation is one of the few organisations providing young people with the chance to develop new skills in a professional environment.
One of the most significant things I gained from my training, work experience and mentoring was the fact I became more confident. This was something I struggled with prior to the EY Foundation. No matter how many books I read I still couldn't get over my fear of public speaking. But soon after starting the programme I was talking in a room with 120 people at a Northern Powerhouse event, with no sign of stuttering or nervousness. I'm truly grateful for the way I was supported and I'm proud to say I was part of the EY Foundation.
The amazing thing about the Foundation is that I continue to feel part of the charity because of the many post-programme opportunities available. From the Young Women's Network, to the student alumni programme and even authoring this introduction to this impact report - the EY Foundation welcomes alumni back with open arms.
The Foundation recently celebrated its fifth anniversary, providing an opportunity to look back at all the young people and social entrepreneurs that have been supported. This milestone represents a transition from a young start-up charity to an organisation that is establishing itself in the sector and ready to make a step-change in its growth and development.
Working with thousands of young people, volunteers and employers around the country over these last five years, July 2018-June 2019 was a year of increased growth. Its programmes helped over 4,000 young people and social entrepreneurs and they were supported by over 3,000 volunteers and over 300 employers. The 'Activity in numbers' and 'Our programmes' sections of this report digs into the data to show the impact this achieved.
Behind the scenes



But what makes all this possible? I spoke with members of the Foundation team to hear about their work over the last year.
Jodie McNally, Head of Young People Services told me about the progress made with employers.
"
Key to the way we operate are the employers we work with. They help us to build a bridge between young people and business. Working with the Cabinet Office, we were able to scale up the volunteering element of the partnership, which helped to reach - and support - more young people.
Taylor Wimpey and ERA Home Security have also been key corporate partners, helping us to work with more young people through tailored, collaborative programmes that provided meaningful and long-term employment opportunities for students. These relationships have demonstrated how being involved in our programmes can make an employer look differently at their recruitment practices.
Lynne Peabody, Head of Income, explained that it wasn't just collaboration with employers that helped unlock the Foundation's impact.
"
Without volunteers and fundraisers we couldn't deliver and fund programmes. This year we embarked on a Foundation first with the Everest Base Camp Challenge. This group of trekkers raised an impressive £43,000. For our 5th anniversary we returned to the desert for the 5th year, taking on the Sahara Trek with a group of 50 challengers. Over five years the Sahara Trek has raised £385,000.
Volunteers continue to be an essential part of our growth. They are vital to the delivery of our programmes, so we're extremely grateful to the thousands of people that got involved. We'd also like to thank our funding partners; The Mercers' Company and the Careers and Enterprise Company. Their funding is instrumental in helping us support more young people and create long-term impact.
All this work is done with a clear ambition to increase the Foundation's impact and Shaun Gloc is the Data Impact Manager:



"
We are always looking to improve the way we collect data. By continuously reviewing this process we will increase the impact of our programmes on young people, as well as speeding up the rate we can gain insights from the data. This is used by our team to refine and improve programme delivery.
Jodie, Lynne and Shaun have given an insight into the Foundation's growth mindset – always looking for new ways to achieve greater impact. So, whilst this report is a celebration of the last financial year, it also provides a basis for learning and shaping what the Foundation does next, ensuring it's work has the greatest impact possible.
If you are a young person, employer, volunteer or fundraiser and you want to find out more about becoming part of the Foundation family, please visit the 'Get Involved' section.