Katie Kummer
EY Global Deputy Vice Chair, Public Policy
---
Building and maintaining trust and confidence between stakeholders and businesses is of the upmost importance.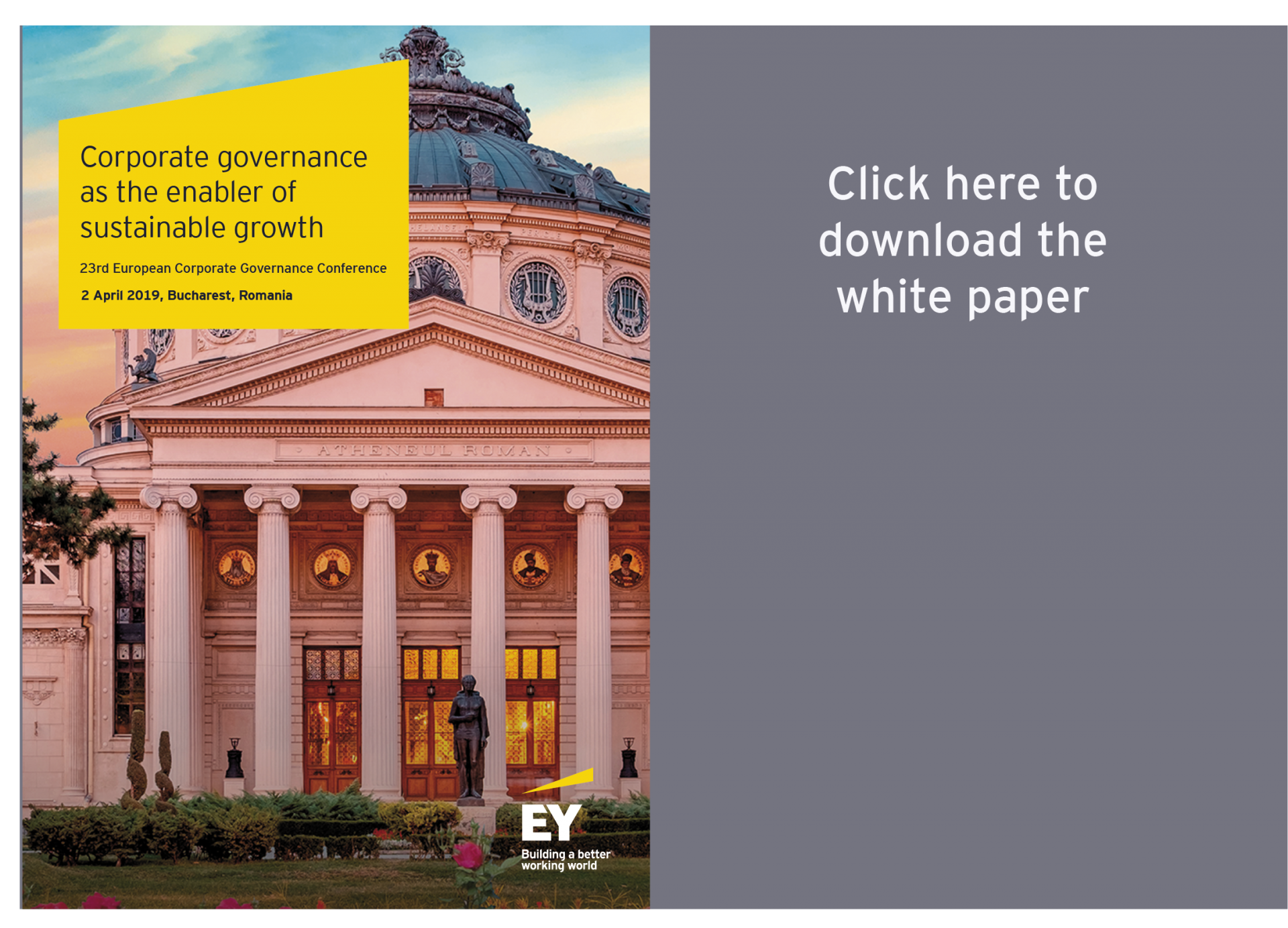 Corporate governance is the central framework in which companies build trust with their stakeholders, the government, and the wider community. It is more than just the principles that safeguard a company's interests, but a way to create long-term value. Corporate governance in itself is not a direct value driver or an outcome, but can facilitate or hinder the creation or protection of value.
Forward-looking organizations are able to focus on growth and value creation through the development of strong corporate governance practices. Basic compliance principles are no longer enough to close the growing trust gap.
Rebuilding this trust comes in a variety of ways. It begins by going beyond the balance sheet, reporting intangible value and investing in human capital. Sustainable corporate governance focuses on tackling environmental issues in supply chains, diversity in the workforce, as well as, improving the local and global community however possible.
As we are in a time of disruption and new megatrends that shape and change industries, we must constantly seek dynamic, real-time, and transparent practices. Businesses must tell the whole story, including financial and non-financial values, detailing the organization's plans, objectives and the purposes behind them.
We need to move beyond just sustainable business performance: we need to achieve inclusive growth. If we want to catalyze change, we need to be measuring the factors that reflect the creation of value — not just what regulators want to see. Investors and shareholders need comparable verified outcome metrics to evaluate which companies are positioned well for real long-term success.
Besides the recent initiatives taken by regulatory bodies, asset managers and asset owners are becoming increasingly interested in receiving long-term performance information. This vital information will enable them to make sustainable and long-term investment decisions.
The idea that a company should not just create profits, but also create value that benefits stakeholders across society, is guided by the premise that we all have an important role to play in building a more prosperous society in the long-term.
EY is working with the Coalition for Inclusive Capitalism to identify new metrics to measure and articulate long-term value to investors and other stakeholders. This new tool for businesses and investors will better reflect the full value that companies create and how they impact the world around them. The report, published last November, sets out specific recommendations to companies, asset managers and asset owners to make our vision a reality.
First of all, companies need to create value in key areas of interest for investors and other relevant stakeholders along the investment chain. More disclosure is not necessarily the answer. We need better reporting that brings out more relevant and comparable information on the things that really matter in the long-term. This will provide insights into a company's long-term plans with consistent reporting metrics and supporting narrative.
Asset managers and asset owners should be encouraged to engage strategically with companies. They can play a role in testing metrics in different categories of value, such as intangibles, and long-term financial performance.
This project is not a conclusion to our questions. But the proposed metrics, founded on the experience and research of 31 companies, and endorsed by global business leaders, will help catalyze wider change.
At EY, we believe a better working world is one where everyone can contribute to and share in the benefits of sustainable economic growth. To achieve this, it is imperative that business and government work together. While policies change, investors understand the need to take a long-term view.
A better working Europe is one that will be built together, harnessing the best of the public and private sectors to realize a world of inclusive growth.